Discover our optimized solutions for battery research at MC 2023 in Darmstadt
From our mobile devices and home energy storage units to vehicles and other transportation applications, batteries—and their capacity to store energy—are critical for a sustainable future. New and improved battery technology is paramount to decreasing our impact on the planet because electric vehicles and sustainable energy sources all require energy storage. While the strategy toward utilization of batteries is set, the ongoing challenge remains to develop batteries that are safer, longer lasting, and more cost-effective.

Visit us and discuss with us how our solutions are critical for addressing different lithium-ion battery development and production challenges
Battery lifespan
Battery charging processes
Battery capacity/mass ratio
Battery production quality control processes
The search for new, lower-cost materials and effective battery structuring methods

Image 1 and 2
Electrode particles' degradation after the cycling process (from the left): anode graphite particle (electrode surface characterization), NMC cathode particles (imaged at the cross section).
Image 3
TOF-SIMS analysis of cathode particles for the battery's fully charged state (analysis in the cross section), where trapped lithium within the particles represents lost active material that is no longer contributing to battery charging.
Image 4
Correlation of Raman spectroscopy data with SEM images of NMC cathode after the cycling process (analysis in the cross section) shows a change in the phase of the particles after cycling and the presence of a particle not fully contributing to the cycling process.
Learn more about our optimized TESCAN FIB-SEM solution for lithium-ion battery characterization


Make advancements in your battery research by leveraging a unique combination of high-current FIB, field-free UHR SEM, and integrated TOF-SIMS.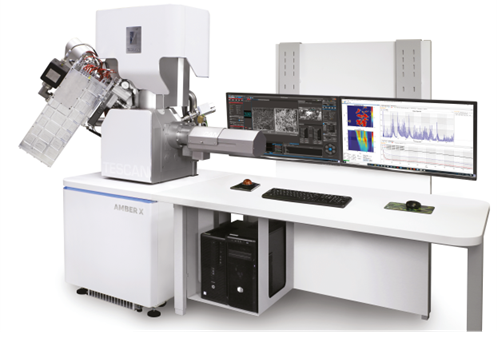 Perform a high-resolution study of anode particles' degradation

using SEM imaging and STEM capabilities, adding the ToF-SIMS technique, and an overview study using Raman spectroscopy.
Investigate SEI properties such as its distribution, homogeneity, thickness, and chemical composition

using ToF-SIMS for high-sensitivity detection of light elements including lithium.
Evaluate electrode cracking and delamination with detailed or large-scale SEM imaging

of a cross section through the complete battery

cell.
Identify chemical contaminants and the by-products of parasitical chemical reactions

in electrodes using EDS or ToF-SIMS techniques in 2D or 3D.
Carry out a high-resolution study of the porosity and interconnectivity in electrodes and/or separators by 3D tomography or SEM imaging with SE/BSE detection capabilities providing topographical and material contrast.
Protect sensitive samples against air or moisture

by utilizing an inert gas transfer system.
Our application engineers, product marketing managers and sales team will be available to hear about your research, answer your questions and show you the solutions that will meet your needs for battery research.